Commercial Bin Cleaning Services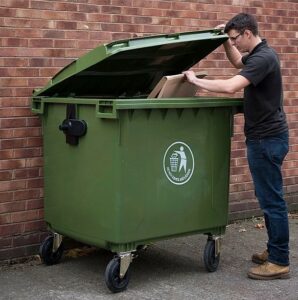 As well as providing wheelie bin cleaning services to the public, we also operate a commercial waste bin cleaning and maintenance service in the Notts and Derby's area.
Whether you operate a business centre, a gym, a tourist attraction or anything bigger or smaller, you can book The Bin Boss to come as a one off or on a regular basis to clean and sanitise the following types of bins;
General waste bins
Specialist waste bins
Large commercial bins
Recycle bins

And we can also provide pressure washing services to any business in any location. Due to our setup, we do not need mains power or a water source – so we can pressure wash anything, ANYWHERE.
Get in touch with The Bin Boss today, for a free no obligation quote.